Hi,
In a physical machine, the operating system (Windows, UNIX, Linux, and so on) is installed directly on the hardware. The operating system requires specific device drivers to support specific hardware. If the computer is upgraded with new hardware, new device drivers are required. Hardware upgrades also require direct hands-on contact by technical support personnel.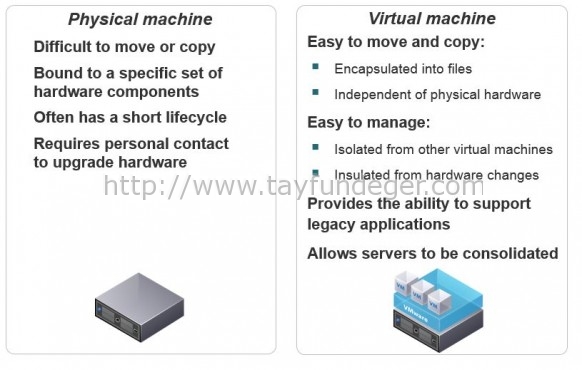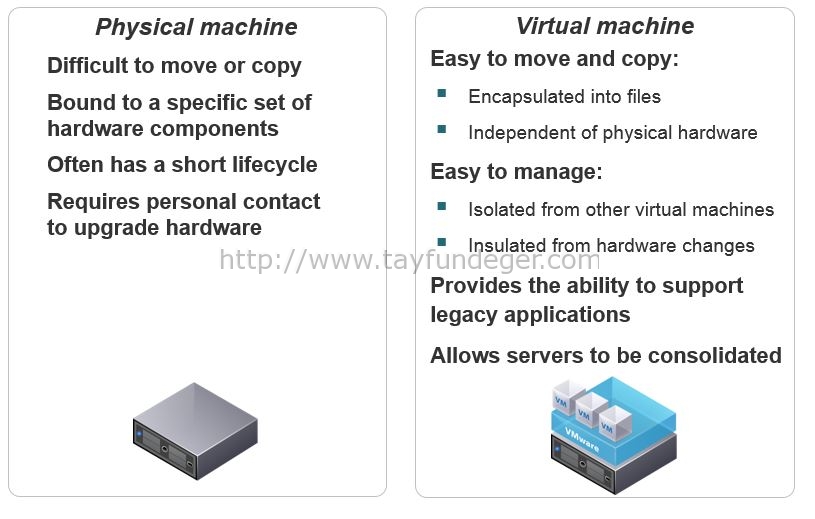 Virtual machines are 100 percent software. The virtual machine is a set of files. A virtual machine uses standardized virtual device drivers. The hardware can be upgraded without change to the virtual machine.
Multiple virtual machines are isolated from one another. You can have a database server and an email server running on the same physical computer. The isolation between the virtual machines means that software-dependency conflicts are not a problem.
Even a user with system administrator privileges on a virtual machine's guest operating system cannot breach this layer of isolation to access another virtual machine without privileges explicitly granted by the VMware ESXi system administrator. As a result of virtual machine isolation, if a guest operating system running in a virtual machine fails, other virtual machines on the same host continue to run. The guest operating system failure has no effect on:
The ability of users to access the other virtual machines
The ability of the operational virtual machines to access the resources that they need
The performance of the other virtual machines
Virtual machinies allow you to consolidate your physical servers and make more efficient use of your hardware. Because a virtual machine is a set of files, features not available or not as efficient on physical architectures are now available to you. For example;
Rapid and consistent provisioning
Disaster recovery and business continuity options. Witch virtual machines you can use live migration, fault tolerance, high availability, improve disaster recovery scenarios and so on that increase uptime and reduce recovery time in the event of failures
Multi-tenancy enables the ability to mix virtual machines into specialized configurations such as a DMZ.
Security options available that are not in the physical infrastructure such as using vShield products to secure your perimeter and provide endpoint solutions.
With virtual machines, you can support legacy applications and operating system on newer hardware when maintenance contracts on the existing hardware expire.