Abone Ol İçerikleri Kaçırma
Merhaba,
vSphere 6 ile ilgili yazılarıma aşağıdaki link'lerden ulaşabilirsiniz. Zaten daha önce vSphere 6 ile birlikte gelen yenilikleri detaylı olarak anlatmıştım. Bu yazıda sadece yeni gelen özellikleri belirteceğim.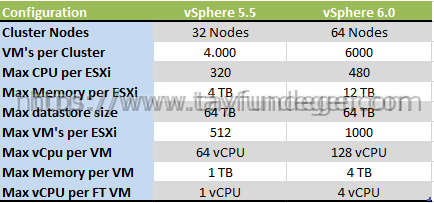 https://www.tayfundeger.com/vsphere-6-configuration-maximums.html
https://www.tayfundeger.com/whats-new-in-vsphere-6-0-fault-tolerance.html
https://www.tayfundeger.com/vmotion-enhancements-for-vsphere-6-announced.html
vCenter 6.0 ile birlikte gelen özellikler aşağıdaki gibidir.
Scalability Improvements
1000 Hosts per vCenter
10,000 VMs Per vCenter
64 Hosts per cluster
6000 VMs per cluster
Linked mode no longer requires MS ADAM
New Simplified Architecture with Platform Services Controller
Centralizes common services
Embedded or Centralized deployment models
Certificate Management
Certificate management for ESXi hosts & vCenter
New VMware Endpoint Certificate Service
New VMware Certificate Authority
New vMotion Capabilities
Cross vSwitch vMotion
Cross vCenter vMotion
Long Distance vMotion
vMotion across L3 boundaries
Improved Auditability of ESXi Admin Actions
Prior to vSphere 6.0, actions taken through vCenter by any user would show up as "vpxuser" in ESXi logs.
In vSphere 6.0 actions taking through vCenter will show the actual username in the ESXi logs.
Enhanced Microsoft Clustering Support
Support for Windows 2012 R2 and SQL 2012
Failover Clustering and AlwaysOn Avalability Groups
IPv6 support
PVSCSI & SCSI controller support
vMotion Support
Clustering across physical hosts with Physical Compability mode RDMs
Supported on Windows 2008, 2008 R2, 2012 ve 2012 R2
Simplified management with Content Library
Single repository for Templates, vApps, ISO images and scripts
Store content once and share globally or selectively
Libraries can sync immediately upon cahanges or on demand
Enhanced Usability Experience (Web Client)
Improved login time
Faster right click menu with flat hierarchy
Panels customizable and moveable
Most tasks %50 faster end to end
VMRC Integration
vCenter Server Appliance ımprovements
Same scalability as Windows vCenter
Linked Mode support
vCenter features are interoperable between Windows vCenter & VCSA